Which H.264 codec is the best?
Moscow State University & Media Lab have published test results of main MPEG-4 AVC/H.264 codecs. There is no surprise: open-source x264 is still the best one: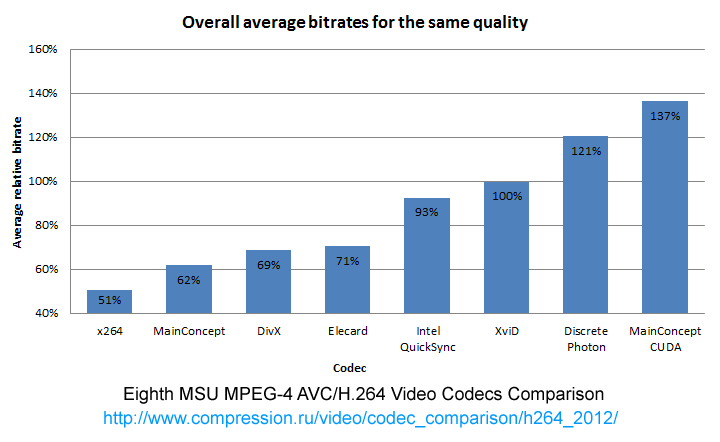 It makes almost twice more compact files than Intel QuickSync and almost 3 times smaller files than MainConcept CUDA-accelerated codec still with the same quality. So faster encoding doesn't mean better quality. Also note that 'open-source' doesn't mean free for commercial use.
FYI x264 codec is used by YouTube, Hulu, Sorenson, Telestream and other online encoding services. It's free for personal use, there also a lot of optional GUI applications for x264 encoding with some optional functions, e.g. MeGUI or Avanti.
MainConcept and QuickSync codecs are widely used in desktop encoding software from Adobe, Apple and Microsoft and others.
UPDATE: The report is updated and now includes results for GPU accelerated codecs:
"So best of hardware encoders Intel QuickSync and best of software encoders x264 are comparable by speed/quality at very high speed encoding."